In its May 2016 issue, Plastics Technology turns the spotlight on our CEO, Al Zoller, and our new liner-less one-piece injection molded cap for carbonated soft drinks, bottled water and other beverages!
The article quotes Al at length as it highlights the coming explosive growth of this revolutionary new beverage bottle cap, which was  invented just five years ago.   How explosive? Think Mentos-dropped-in- a-Diet-Pepsi-Bottle explosive: According to an April 2015 report by market researcher Freedonia Group, global demand for caps and closures is expected to increase 5.6%/yr to $58 billion by 2019, with unit production rising 4% to 2.2 trillion. Beer, CSD, and bottled water represent the largest segments.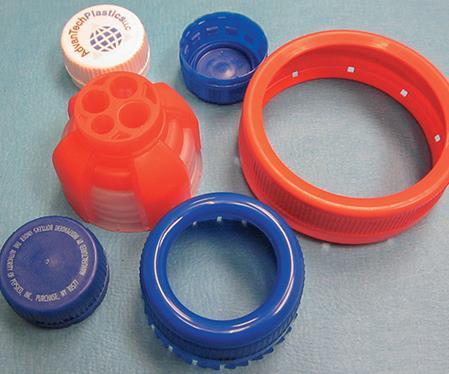 Why is everyone so bubbly about the new liner-less caps? Simple: They're cheaper to produce (because they use less resin) and work just as well — if not better – than traditional two-piece caps, with their elastomer liners. This month, our company, through our AdvanTech Closures LLC business, will start producing the caps, which are actually a new, improved version of the original linerless caps. AdvanTech's second-generation 1881 cap, with patented Flex Seal technology, has evolved further still, cutting weight by 20% from the first-generation 1881, down to just 2.1 g.
Located in our Dillards Court facility,  the cap's molding cell is built around a Husky HyCap 400 press, running a 96-cavity tool from a European manufacturer.
New beverage caps don't come along every day; many don't enter production because they can't measure up.  But AdvanTech's new liner-less cap was vigorously tested in actual bottling and filling plants.  These performance metrics included application torque, removal torque, carbonation, carbon dioxide retention,  and countless other tests performed on all 96 cavities of the production tool.
The cap passed all the tests with flying colors:  in fact, a major soft-drink manufacturer which will go into production with AdvanTech's new cap this year!  Stand by for the official announcement!